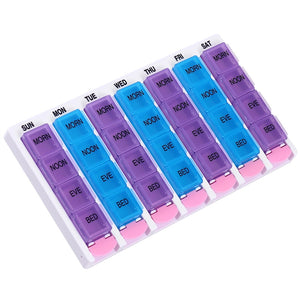 Description
Want to get rid of the chaos of managing medications? Still spend lot of time finding the tablets most needed in some emergency situations? Get this versatile 7 day pill planner box to organize your pills along your journey, everything will be easier! This pill dispenser comes with 28 compartments mini containers, and it's equipped with a creative one-touch press button for each group, by pressing which the pill box and the lid will pop out for easy and quick access. Ideal for daily use at home, office, shcool, and perfect for travel. Otherwise, each group of pillbox is detachable separately for easy storage in pocket or handbag. A great way to quickly and precisely take your vitamins and medications without the hassle of opening different bottles. Suitable for people of all ages.
Features
- Brand: ROSENICE
- Color: Blue, purple
- Material: ABS
- Size: 21 x 12.2 x 2.5 cm / 8.26 x 4.8 x 0.98 inch (LxWxH)
-
DAY AND NIGHT

PILL BOX. Morning/noon/ evening/bed

compartments for

easily planning and distributing your daily doses.
- ENOUGH COMPARTMENTS -

Weekly 7 groups

, each group of pillbox has 4 dosage compartments, offering

plenty of room to hold an assortment of pills

, capsules, tablets, vitamins

in one handy location

.
- ONE-TOUCH PRESS BUTTON. Simply press the button, the pill box and

the lid

will pop out for easy and quick access.
- REMOVABLE PILL ORGANIZER. Each bar of pillbox is detachable for convenient use and easy storage in your handbag and pocket.
- SAFE AND RELIABLE STORAGE. Each
independent small case is designed with block button design, dust-proof and moisture-proof, won't pour out easily.
- VERSATILE PILL PLANNER FOR ALL AGES. Ideal for daily household and travel use for families, students, workers, etc.